For some crazy reason, I LOVE doors/doorways.  When I travel, I always find myself taking photos of beautiful doorways and I love those posters of doors.  Hmmm – wonder what that means! LOL – Today's inspirational photo (below) from the Add A Little Dazzle Dazzling Diva Challenge was a huge inspiration!  I loves the colors and the style!  I wanted to recreate the brick look and the feel of the door without doing a literal interpretation so this is what I came up with.
Today is Day 3 of the Add a Little Dazzle and Neat & Tangled Blog Hop!  Both Design Teams partnered up to bring you lots of inspirational projects showcasing the Neat & Tangled line of stamps, dies, and digital stamps with Add a Little Dazzle Craft Metal Sheets.  You can play along with the Dazzling Diva Challenge #52 – See the Inspirational Photo Below.  In addition to the fun and inspiration, there will be prizes to give away!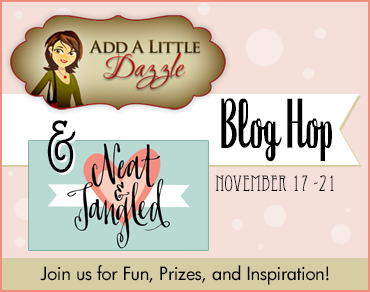 Whether you are looking for holiday card and gift ideas or everyday crafting ideas you will see a little bit of it all during the Blog Hop.  Some Designers will even be playing with digital images and pulling out Silhouette Machines and some extra fun goodies. Make sure to join us every day this and make sure to  join in for a chance to win a prize.  Lets have some fun!
If you're a frequent visitor to my Blog, you know I am happiest when I'm distressing my projects and creating some type of Vintage look so I used the MFT  Brick Wall Stencil with new Distress Stain Sprays along with Distress Inks for the background and Brushed Bronze Craft Metal with the Damask Background Stencil for the center.
I taped down the Brick Wall Stencil from My Favorite Things over Manila Cardstock.  (The center was going to be covered by the Craft Metal so I taped it there.)
I sprayed Distress Stain Sprays in Tea Dye, Vintage Photo, Walnut Stain, Black Soot and Tarnished Brass over the Stencil, heat setting in between layers.
Once they were dry, I removed the stencil and used a Mini Blending Tool to apply Frayed Burlap Distress Ink over the remaining areas of the stencil to blend the color.
Can you tell how addicting these Distress Stain Sprays are?!  Yikes!
I spritzed Crinkle Ribbon with Water and sprayed Distress Stain Sprays onto it.  The Colors I used were Rusty Hinge, Tea Dye, Vintage Photo and Walnut Stain.
I crinkled it and Heat Set it.
There was lots of Distress Stain left on the Craft Sheet so I spritzed a few tags with water and dragged them through the Ink and Heat Set them.  (You'll be seeing them on other projects, I'm sure!)
Neat & Tangled Copper Penny Satin Sequins were applied to the front of the project with Glue Dots.
The Manila Cardstock piece was attached to a 5-1/2″ x 8-1/2″ piece of SU! Chocolate Chip Cardstock that was scored and folded at 4-1/4″.
A piece of SU! Very Vanilla Cardstock was adhered to the inside of the card.
Challenges:
Dazzling Diva Challenge #52 (Inspirational Photo Below)
Be sure to visit each of the designers on this blog hop!
Neat and Tangled 
Add a Little Dazzle 
Anna Kossakovskaya 
Taheerah Atchia 
Kate Capper 
Lydia Evans 
Martha Lucia Gomez 
Lee Ann Barrett 
Lee-Anne Cross 

You Are Here → Cathy Parlitsis ←You Are Here  

Prize Alert!!!
We have an awesome giveaway!  Enter for a chance to win 1 of 2 prize packs from both companies!  You have until Saturday, November 22nd midnight (MDT) to enter. The winners will be announced on both company blogs.
You must leave a comment on all blogs (including company blogs) for a chance to win 1 of 2 prize packs!

Special Bundle Pack!!!
Are you excited and want to try out Add a Little Dazzle Craft Metal Sheets? Order our Ultimate Sampler Pack today! Receive an EXCLUSIVE PDF TUTORIAL.  Order your Metal Sheets today!
 Limited Time Offer!