For the Add A Little Dazzle and Neat & Tangled Blog Hop, I did Vintage/Distress yesterday so today, I'm bringing you Clean and Simple.  I tend to go back and forth – but, if I had to choose, I think Vintage is my fave. What's your style?  Instructions Below – Click Hyperlinks to Order. 🙂
Today is Day 4 of the Add a Little Dazzle and Neat & Tangled Blog Hop!  Both Design Teams partnered up to bring you lots of inspirational projects showcasing the Neat & Tangled line of stamps, dies, and digital stamps with Add a Little Dazzle Craft Metal Sheets.  In addition to the fun and inspiration, there will be prizes to give away!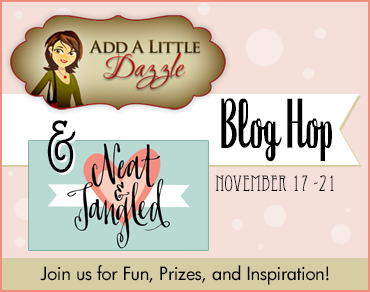 Whether you are looking for holiday card and gift ideas or everyday crafting ideas you will see a little bit of it all during the Blog Hop.  Some Designers will even be playing with digital images and pulling out Silhouette Machines and some extra fun goodies. Make sure to join us every day this and make sure to  join in for a chance to win a prize.  Have fun!
The word "Celebrate" was stamped onto the postcard in Real Red Ink.
N&T Black Sequins were adhered randomly on the card front using Glue Dots.
A small Rhinestone Basic Jewel was used to embellish one of the sequins on the bottom of the card.
Use Stampin' Dimensionals to adhere the postcard sized card to the folded card.
Have you been enjoying the 12 Weeks of Christmas and Holiday Helper Projects?  If you're an Email Subscriber, they come to you FREE every week!  Click HERE to Join My Mailing List.

Neat & Tangled
Add a Little Dazzle
Mayuri 
Kristen Foreman
Kate Capper
You are here →  Cathy Parlitsis  ← You are here 
Keren Baker 
Martha Lucia Gomez 

Prize Alert!!!
We have an awesome giveaway!  Enter for a chance to win 1 of 2 prize packs from both companies!  You have until Saturday, November 22nd midnight (MDT) to enter. The winners will be announced on both company blogs.
You must leave a comment on all blogs (including company blogs) for a chance to win 1 of 2 prize packs!

Special Bundle Pack!!!
Are you excited and want to try out Add a Little Dazzle Craft Metal Sheets? Order our Ultimate Sampler Pack today! Receive an EXCLUSIVE PDF TUTORIAL.  Order your Metal Sheets today!
 Limited Time Offer!